"Self Esteem" Flower Essence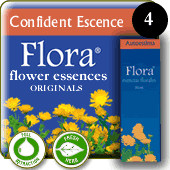 Essence "Confidence" / "Self esteem": This essence helps to overcome insecurity and lack of self esteem.
• Promotes self confidence and autonomy
• Helps you to reject feelings of inferiority
• Helps with feelings of guiltiness, dependency or failure



It naturally improves your self esteem and self reliance. It also helps you to make decisions and not feel overwhelmed by life.
$18.95

Other helpful Essences to combine with for maximum results:
- "Peaceful Relationships" Essence


About FLORA Essences

FLORA Essences FAQ


Return from "Self Esteem" Essence to FLORA Essences STORE

Return to Anxiety and Depression Home





Privacy Policy l Guarantees l Disclaimer l Testimonials