"Peaceful Relationships" Flower Essence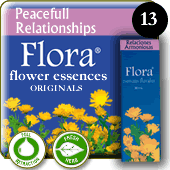 Essence "Peaceful Relationships": This flower essence helps with all relationships in your life. It's not only for romantic relationships, it helps with relationships among parents & children, co-workers, friends etc.
• Helps dealing with resentment, pain and instability caused by troubled relationships
• It promotes integration, commitment, tolerance and affection


It helps to get people on the same page and avoid those that are always generating conflicts.
$18.95

Other helpful Essences to combine with "Peaceful Relationships" for maximum results:
-"Self Esteem"


About FLORA Essences

FLORA Essences FAQ


Return from "Peaceful Relationships" Essence to FLORA Essences STORE

Return to Anxiety and Depression Home





Privacy Policy l Guarantees l Disclaimer l Testimonials