"Addictions" Flower Essence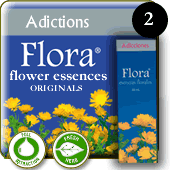 Essence "Addictions": This essence is very helpful in the process of overcoming addictions to alcohol, nicotine, gambling or drugs in general.
• Promotes a sense of responsibility and emotional stability
• Modifies the self harming, self-destructive behavior
• In the long run it modifies addictive behavior
This Essences can also help with addictions to people. For instance, a person that is addicted to his/her partner.
$18.95



Other helpful essences to combine with "Addictions" essence for maximum results:
-Self Esteem


About FLORA Essences

FLORA Essences FAQ


Return from "Addictions" Essence to FLORA Essences STORE

Return to Anxiety and Depression Home





Privacy Policy l Guarantees l Disclaimer l Testimonials