"Revitalize" Flower Essence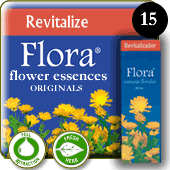 Essence "Revitalize": This flower essence works especially well on people that suffer from extreme lethargy and tiredness.
• It promotes vitality, enthusiasm and joy
• It relieves emotional tiredness
• It's very helpful for people that have been going through difficult treatments or long time diseases.

It is also beneficial for those who have to mix school studies and work.
$18.95

About FLORA Essences
FLORA Essences FAQ


Return from "Revitalize" Essence to FLORA Essences STORE

Return to Anxiety and Depression Home





Privacy Policy l Guarantees l Disclaimer l Testimonials