"Depression" Flower Essence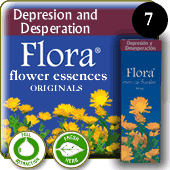 Essence "Depression": This essence is excellent to relieve the states of sadness, hopelessness, apathy, and desperation.
• It is ideal for moments of extreme restlessness, emotional pain and resentment.
• It helps to overcome sorrow and sudden crying spells
• It helps you when you are feeling overwhelmed by life
Ideal for the people that are in extreme anguish because it generates peace and tranquility.
$18.95

Other helpful Essences to combine with "Depression" for maximum results:
About FLORA Essences
FLORA Essences FAQ

Return from "Depression" Essence to FLORA Essences STORE

Return to Anxiety and Depression Home





Privacy Policy l Guarantees l Disclaimer l Testimonials