Natural Remedies for Anxiety and Stress: AMANSATOROS PLUS®

A clinically proven 100% natural tranquilizer that relieves stress, mild anxiety and insomnia


"Amansatoros" (Justicia Polygonoides), an Amazonian plant that has been successfully used as a mild sedative of the nervous system, is now available as an herbal supplement.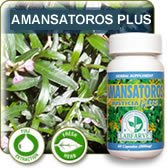 • Effective and safe solution for insomnia, stress and mild anxiety
• It has no side effects
• It doesn't interact or contraindicate other medications
• Because it is a 100% natural remedy, it is safe in adults of any age as well as children
• Guaranteed results

$23.95


The majority of people suffering from anxiety and stress do not need medications of synthetic chemical compounds, on the contrary herbal therapy is the best, more holistic answer to stress disorders.
Try it RISK-FREE. If you are not delighted with the results, just send it back.



Clinically Proven
At the Research Unit in the Juan N. Corpas School of Medicine, a study with 100 patients of different ages was made. The anxiety was evaluated using the test of Goldberg. The treatment lasted 12 weeks with a daily dose of 30 drops of extract of Amansatoros Plus every 8 hours.
The study showed remarkable results; In 90 patients (90,00 %) the response was positive, in 7 patients (7,00 %) there wasn't a response, in 3 patients (3,00 %) the response was negative.
It is recommendable to combine the use of AMANSATOROS PLUS ® with relaxation techniques, healthy nutrition and some form of mild exercise to ease the body from toxins that trigger stress related problems.


*For the treatment of insomnia take 2 -3 capsules ½ hour before bed time.
Privacy Policy l Guarantees l Disclaimer


Return from Natural Remedies for Anxiety "Amansatoros" to Herbal Therapy

Return from Natural Remedies for Anxiety "Amansatoros" to Home